Worrying about the Covid Delta Variant virus & getting sick this time of pandemic?
Use
Daikin Air Purifier
now! It has a unique Streamer Technology that is proven to help inactivate 99.9% against Coronaviruses & harmful particles/substances and can also eliminate odor-causing bacteria! 𝐊𝐞𝐞𝐩 𝐲𝐨𝐮𝐫 𝐟𝐚𝐦𝐢𝐥𝐲 𝐬𝐚𝐟𝐞 𝐚𝐧𝐝 𝐛𝐫𝐞𝐚𝐭𝐡𝐞 𝐟𝐫𝐞𝐬𝐡 𝐚𝐢𝐫 𝐢𝐧𝐝𝐨𝐨𝐫𝐬 𝐛𝐲 𝐢𝐧𝐯𝐞𝐬𝐭𝐢𝐧𝐠 𝐢𝐧 𝐚𝐧 𝐀𝐢𝐫 𝐏𝐮𝐫𝐢𝐟𝐢𝐞𝐫 𝐭𝐨𝐝𝐚𝐲!
HOME & BUSINESS SOLUTIONS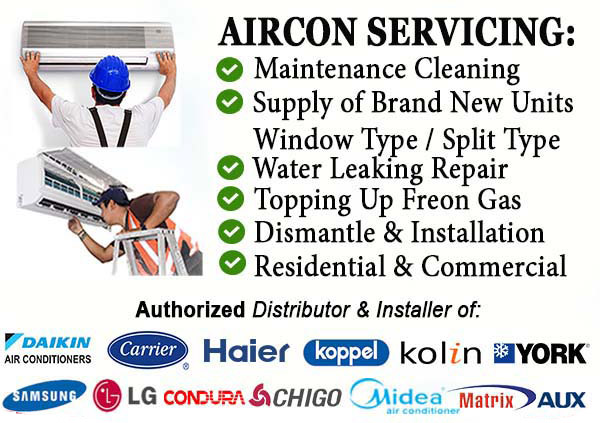 Rosarito Industries is an AIRCON CONTRACTOR with PCAB License 19-13959.
Authorized Dealer & Installer of well-known aircon brands such as 𝗗𝗔𝗜𝗞𝗜𝗡, 𝗖𝗔𝗥𝗥𝗜𝗘𝗥, 𝗣𝗔𝗡𝗔𝗦𝗢𝗡𝗜𝗖, 𝗠𝗜𝗧𝗦𝗨𝗕𝗜𝗦𝗛𝗜, 𝗬𝗢𝗥𝗞, 𝗞𝗢𝗟𝗜𝗡, 𝗞𝗢𝗣𝗣𝗘𝗟, 𝗦𝗛𝗔𝗥𝗣, 𝗚𝗥𝗘𝗘, 𝗟𝗚, 𝗦𝗔𝗠𝗦𝗨𝗡𝗚, 𝗛𝗜𝗧𝗔𝗖𝗛𝗜 𝗔𝗡𝗗 𝗢𝗧𝗛𝗘𝗥𝗦.
SUPPLY & INSTALLATION OF:
Residential AIRCONDITIONING Split Type Wall Mounted, Window Type Inverter or Non-Inverter
Floor Mounted & Ceiling Cassette/Suspended Type for Commercial application
Package Type Ducted Split Type / Air Handling Unit
PACU (Precision Airconditioning Unit)
VRV (Variable Refrigerant Volume) Aircon System for Large-Sized Building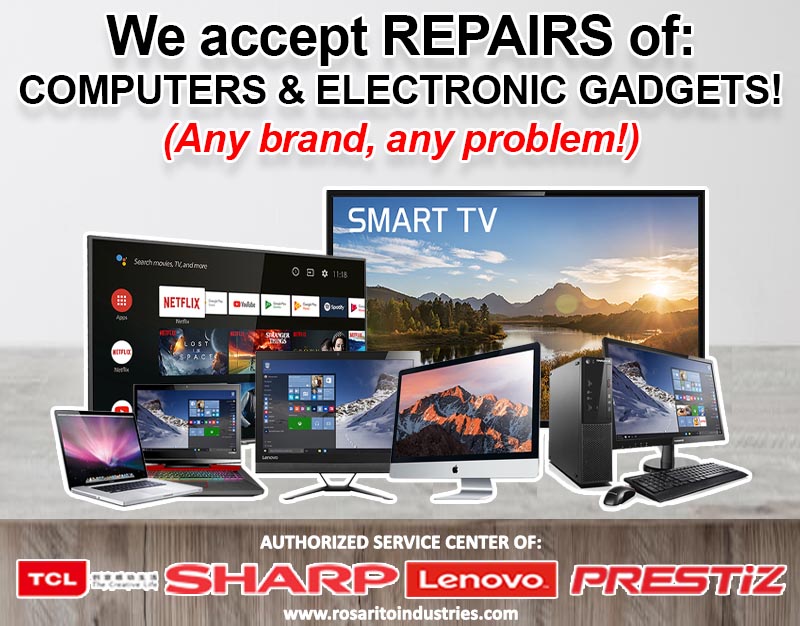 Electronic Gadgets Repair
Cleaning, Replacement of thermal compound & Recalibration of Fan. (𝘗𝘳𝘦𝘷𝘦𝘯𝘵𝘪𝘰𝘯 𝘧𝘰𝘳 𝘰𝘷𝘦𝘳𝘩𝘦𝘢𝘵𝘪𝘯𝘨)
Reformat & Reprogram / Re-flashing & Reprogram
Motherboard Level Repair (𝙀𝙓𝙋𝙀𝙍𝙏𝙄𝙎𝙀!)
Motherboard Replacement (TV/Laptop/Desktop)
Water Damaged Issue (𝙀𝙓𝙋𝙀𝙍𝙏𝙄𝙎𝙀!)
Original Equipment Manufacturer (OEM) Parts
LCD & Touchscreen Replacement
Storage Drive & Memory/RAM Replacement / Upgrade
Wiring, cabling & networking. (𝙀𝙓𝙋𝙀𝙍𝙏𝙄𝙎𝙀!)
Printer & File Sharing (𝙀𝙓𝙋𝙀𝙍𝙏𝙄𝙎𝙀!)
Service Center of 𝗟𝗘𝗡𝗢𝗩𝗢, 𝗧𝗖𝗟 𝗧𝗩, 𝗣𝗥𝗘𝗦𝗧𝗜𝗭 𝗧𝗩 & 𝗦𝗛𝗔𝗥𝗣 𝗧𝗩!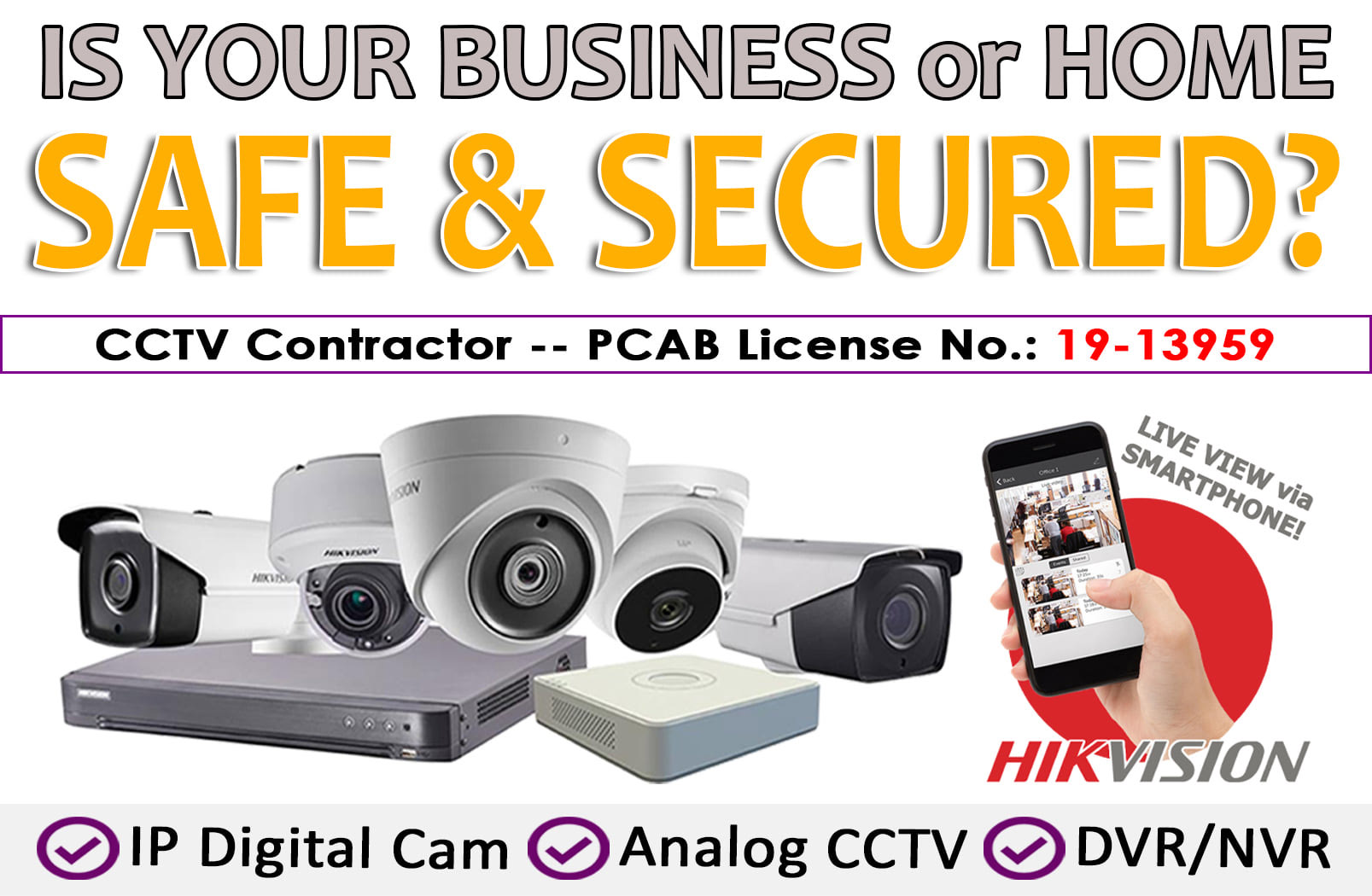 We are a 𝗖𝗖𝗧𝗩 𝗖𝗢𝗡𝗧𝗥𝗔𝗖𝗧𝗢𝗥 accredited by the 𝗣𝗵𝗶𝗹𝗶𝗽𝗽𝗶𝗻𝗲 𝗖𝗼𝗻𝘁𝗿𝗮𝗰𝘁𝗼𝗿𝘀 𝗔𝗰𝗰𝗿𝗲𝗱𝗶𝘁𝗮𝘁𝗶𝗼𝗻 𝗕𝗼𝗮𝗿𝗱 (𝗣𝗖𝗔𝗕) with 𝙇𝙞𝙘𝙚𝙣𝙨𝙚 𝙉𝙪𝙢𝙗𝙚𝙧: 19-13959
Replacement, upgrading, and rehabilitation of OLD & Existing CCTV Security Systems.
Site Surveys, System design, System consultation and Configuration
Preventive Technical Maintenance
Project management & implementation
Repairs & after sales services
Become OUR AFFILIATE PARTNER
and BOOST YOUR EARNINGS!!!